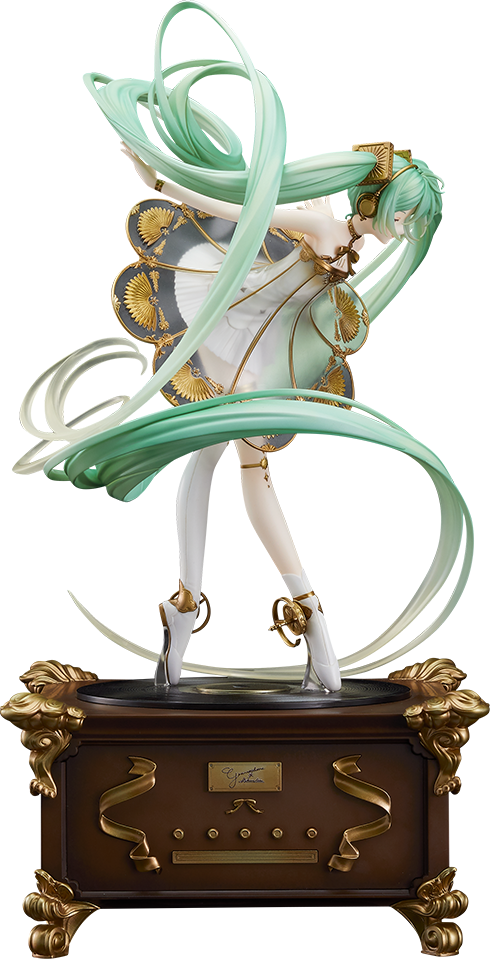 Hatsune Miku
Symphony
Preorder Period
Preorders open from the 20th of September, 2021 from 17:00JST
to the 25th of November, 2021 at 12:00JST
A Special Tone and Voice for You

From "Character Vocal Series 01: Hatsune Miku" comes a scale figure of Hatsune Miku from the main visual illustration of the full orchestra concert "Hatsune Miku Symphony 2020 ~5th Anniversary~".
Illustrator Rella's fantastic, beautiful main visual illustration has been carefully brought into figure form. Miku's gramophone-inspired dress features translucent parts and delicate pearl and gold paintwork. In addition to her face with closed eyes, an interchangeable smiling face part is included.
From her flowing hair to the tips of her fingers and toes, the figure is packed with charm. The base of the figure also features a smalll drawer for storage, allowing you to store the music box included with the figure inside. Be sure to preorder her for your collection!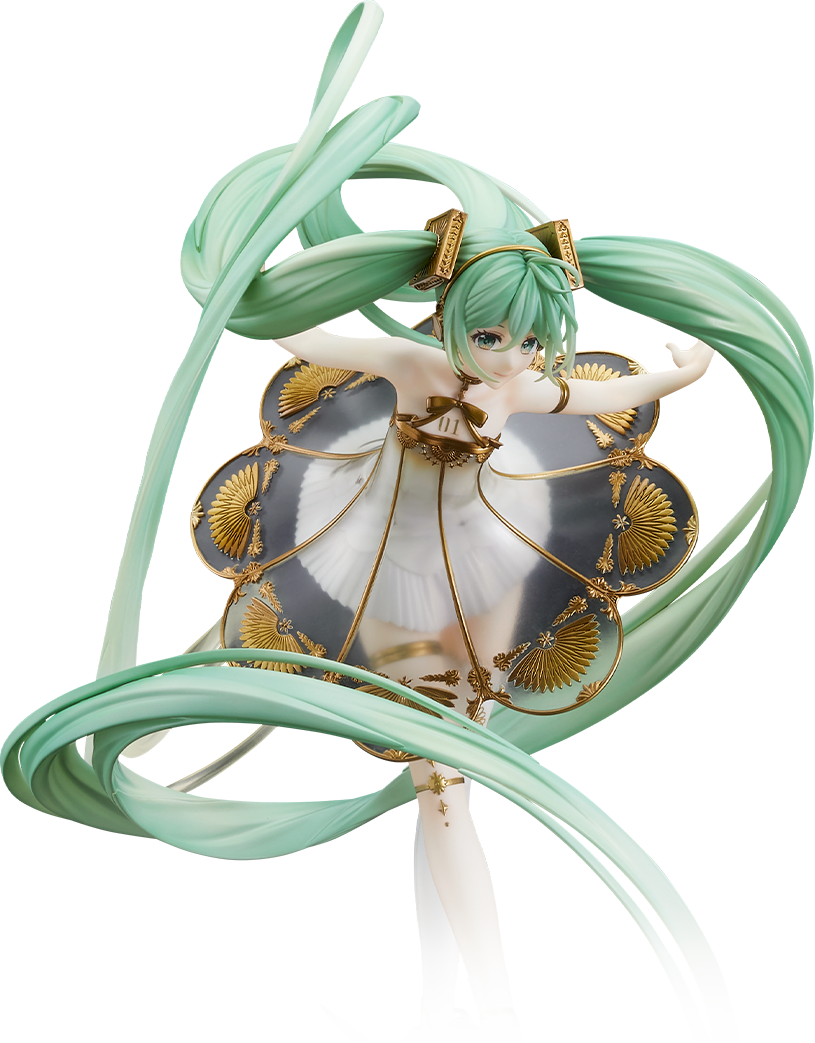 Delicate Dress
Her dress, inspired by the shape of a gramophone, features translucent parts for a delicate look. the white dress beneath is painted with elegant pearl paintwork. The dress' gold decorations have been faithfully brought into figure form as well.

Flowing Hair
Her beautiful, dynamically flowing hair looks incredible from every angle. Her hair color is a relatively muted tone, but still shines with gorgeous pearl paintwork and translucent parts at the ends.


Glistening Eyes
In addition to her closed eyes expression from the original illustration, the figure comes with an interchangeable smiling face part. The creation of the alternate face part was completely supervised by illustrator Rella and specially made for this figure.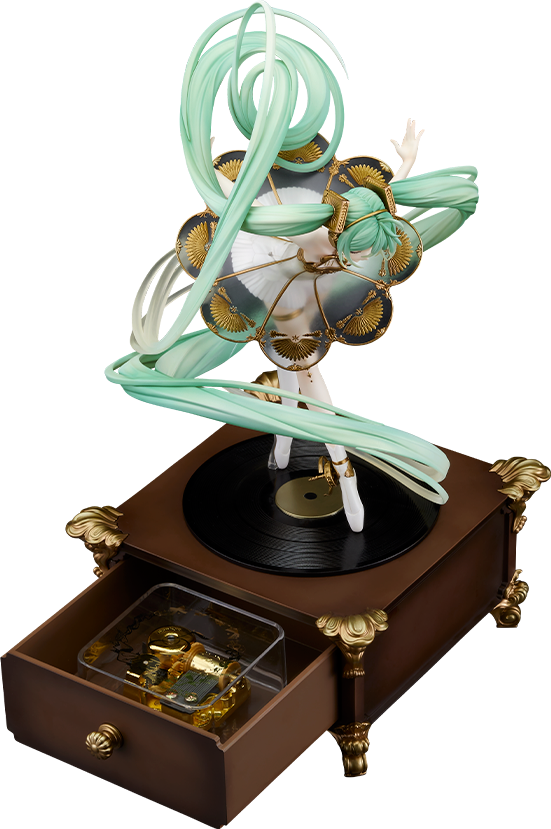 A Special Tone
A music box featuring a specially arranged version of the Hatsune Miku Symphony 5th Anniversary theme song "Butai" (Lyrics, Composition: JimmyThumbP) is included. The 5th Anniversary logo has been gold tooled onto the box case. The music box is the perfect size for storing in the figure base's storage drawer.
Music Box Specifications:
Song: "Butai" (Lyrics, Composition: JimmyThumbP)
18-Tone Gold-Plated Music Box Movement
Gold-Tooled Clear Case
Size: Approx. W74xD74xH40mm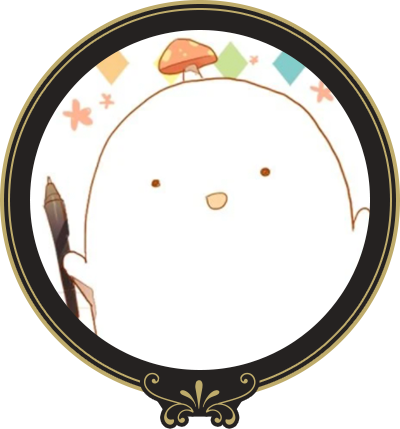 IllustratorRella
Hatsune Miku Symphony: 5th Anniversary Ver.—I've taken the liberty of calling her "Gramophone Miku" in my head—started out as an idea from the Hatsune Miku Symphony 2019 key visual illustration.
Did you notice that in the background of that illustration of all of the Piapro characters, there's an old gramophone?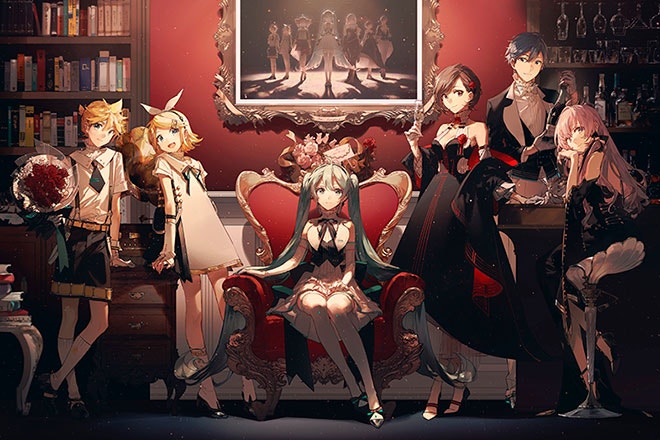 The idea of "Gramophone Miku" came from a rough sketch I made when I was researching how to draw that particular gramophone.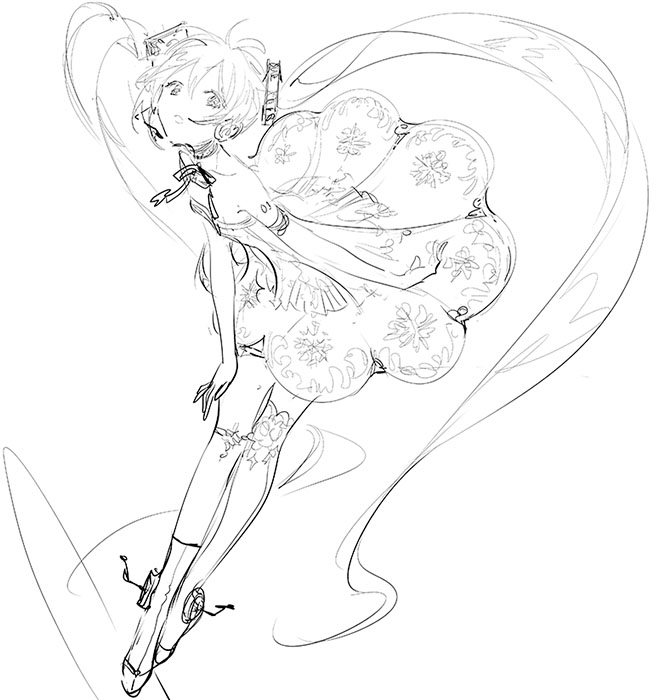 Here is that rough sketch.
This idea really stuck in my mind, and I thought it would be nice to have a chance to use it someday. Through a few strokes of fortune, it became the main visual illustration for Hatsune Miku Symphony ~5th Anniversary~ at Suntory Hall—and to see her transformed into a scale figure on top of that? I am simply overjoyed.
I think the most difficult part of the modeling process was capturing the gradation of the hair and the gold colors. Since Gramophone Miku was designed with only a few colors, it was necessary to achieve a perfect balance of harmony between those few colors, which proved to be extremely difficult. After asking the paintwork artist to make a number of revisions, the final result turned out to be absolutely magnificent.
Additionally, Miku's eyes are closed in the the original key visual, but Good Smile Company came up with the idea to make a version with her eyes open. After a lot of back-and-forth communication, we were able to create one more expression that I was satisfied with.
I would like to express my deepest gratitude to the sculptor, paintwork artist and the creative planning staff involved in the production of this figure.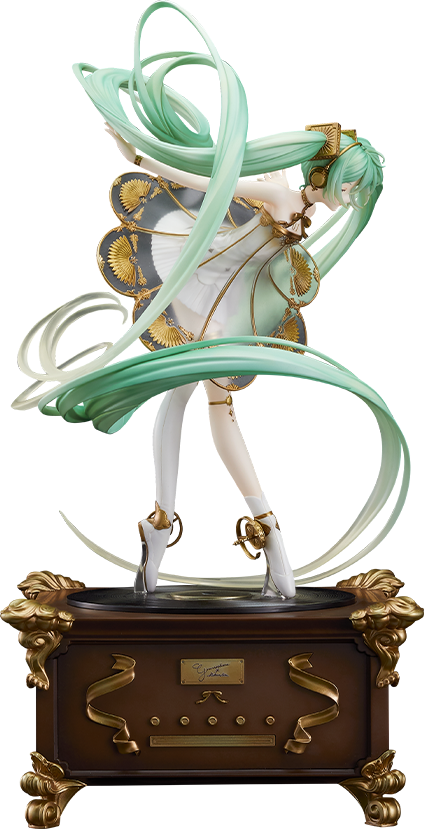 Product Name

Hatsune Miku Symphony
5th Anniversary Ver.

Series

Character Vocal Series 01: Hatsune Miku

Specifications

Painted full-scale ABS&PVC complete product with stand included. Height: Approx. 250mm (Figure Only)/Approx. 340mm (Including Base)

Price

¥35,000

Release Date

January 2023

Sculptor

Lingzi Ming

Paintwork

Kenji Sugi
Preorder Period
Preorders open from the 20th of September, 2021 from 17:00JST
to the 25th of November, 2021 at 12:00JST