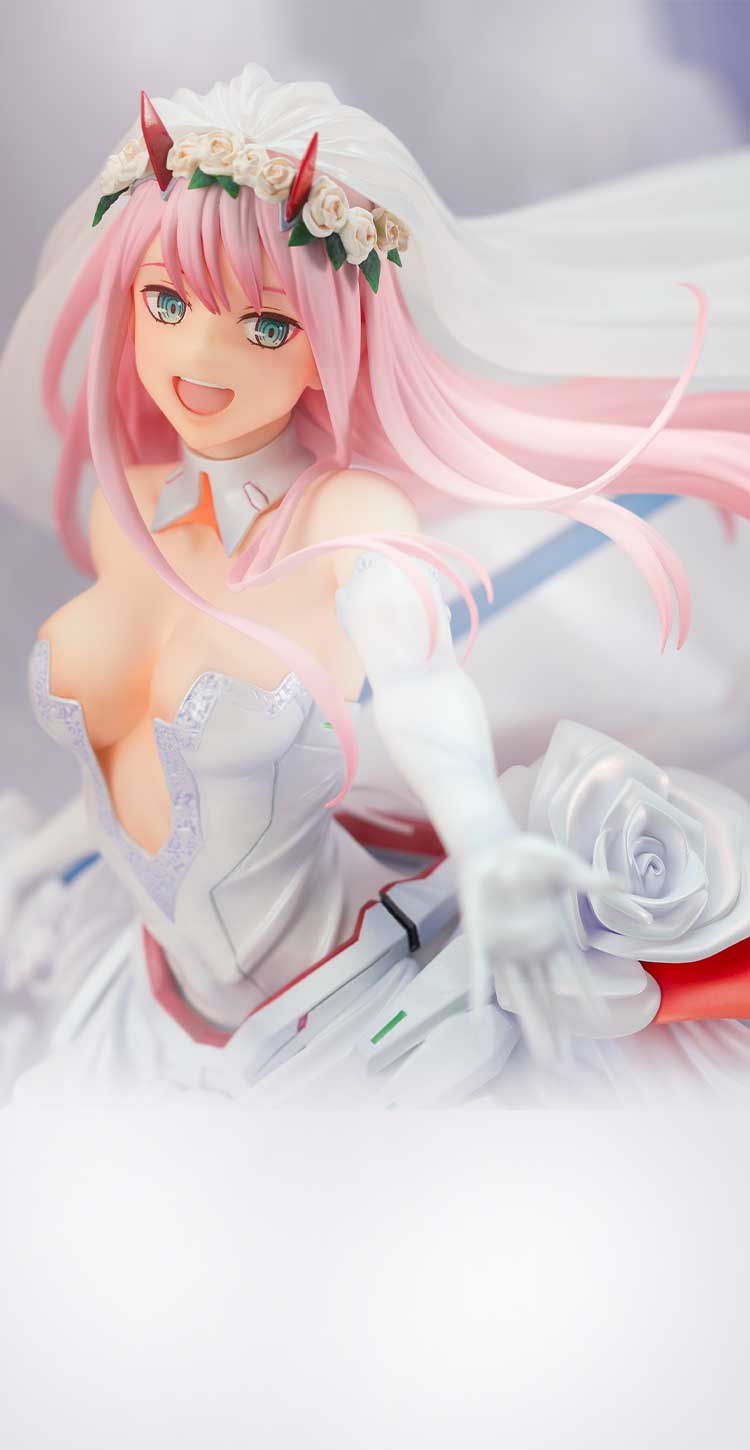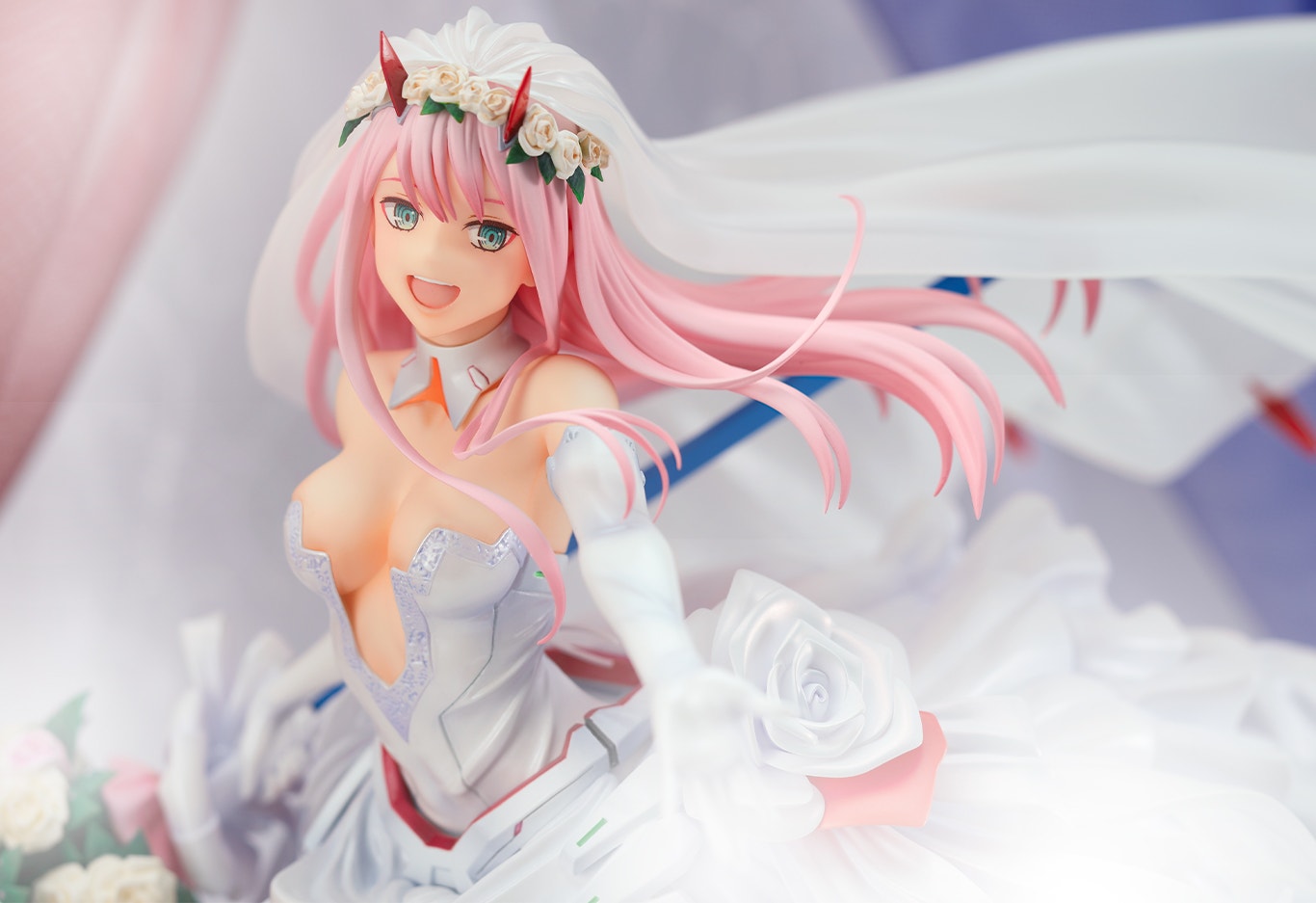 Preorder Period

From the 22nd of April, 2021(Thu) at 12:00JST
to the 8th of July, 2021(Thu) at 12:00JST
Preorder Now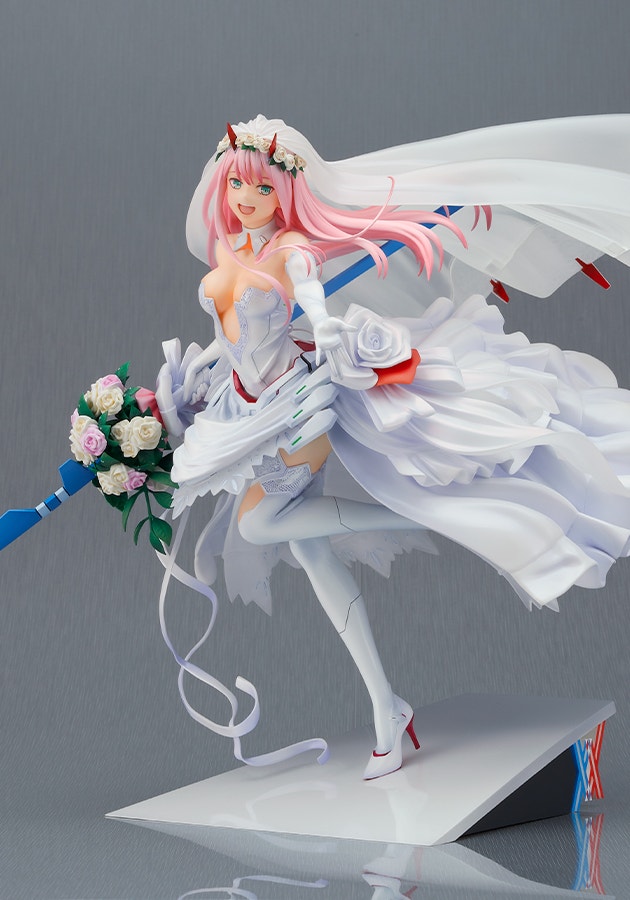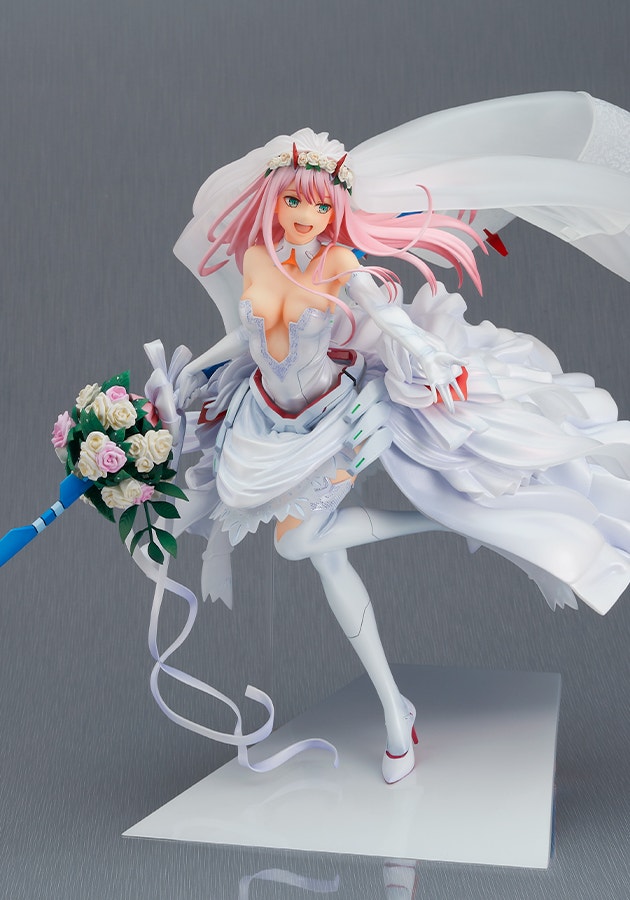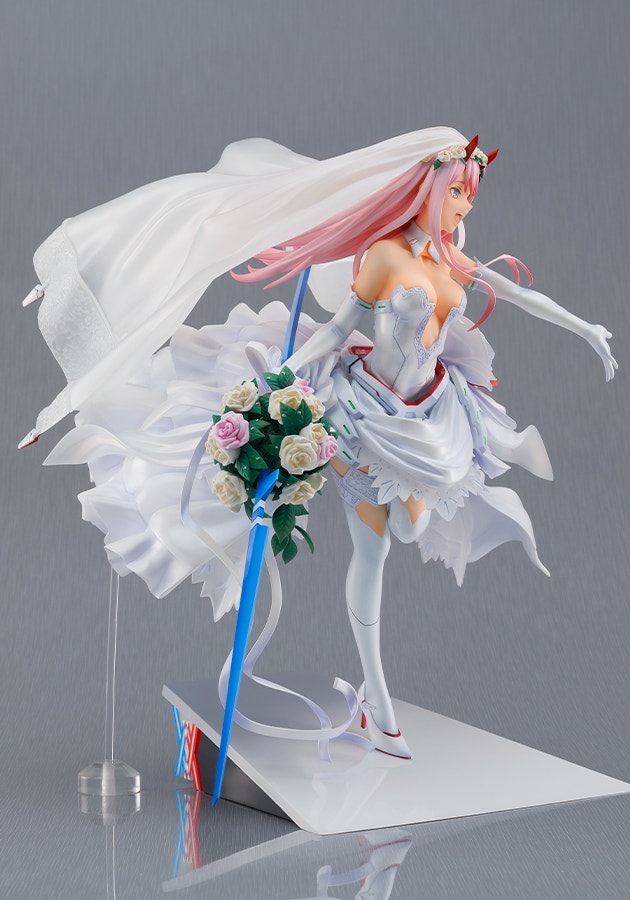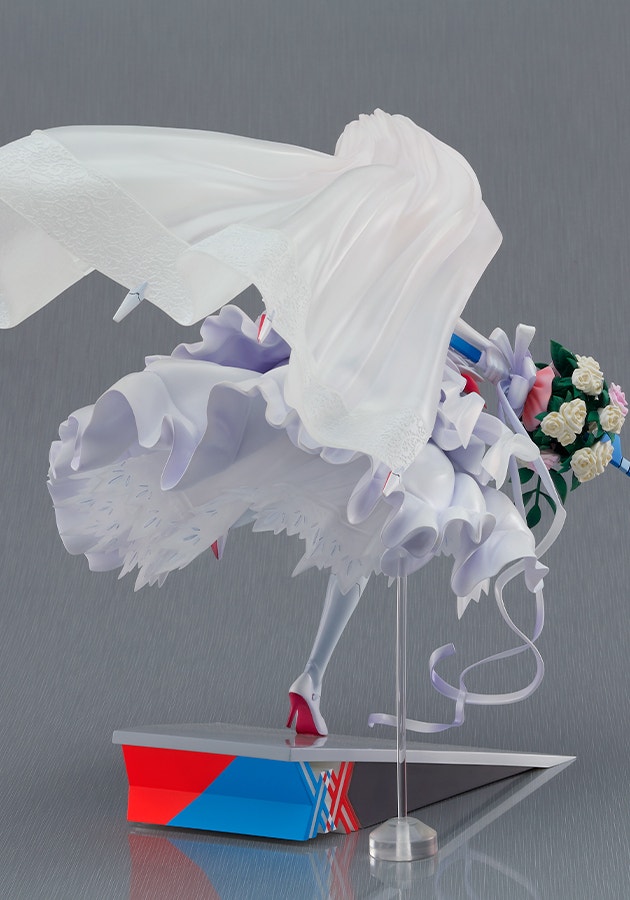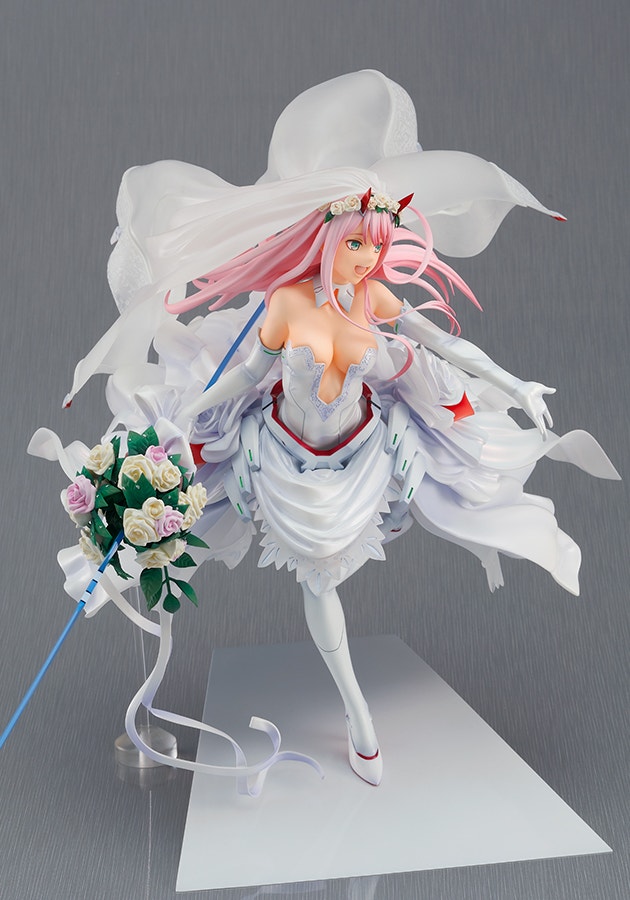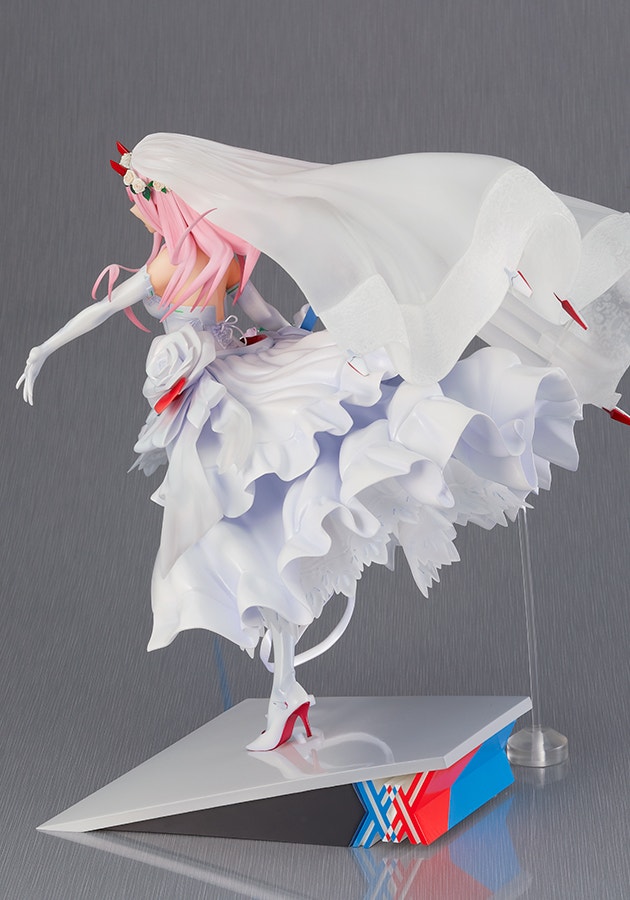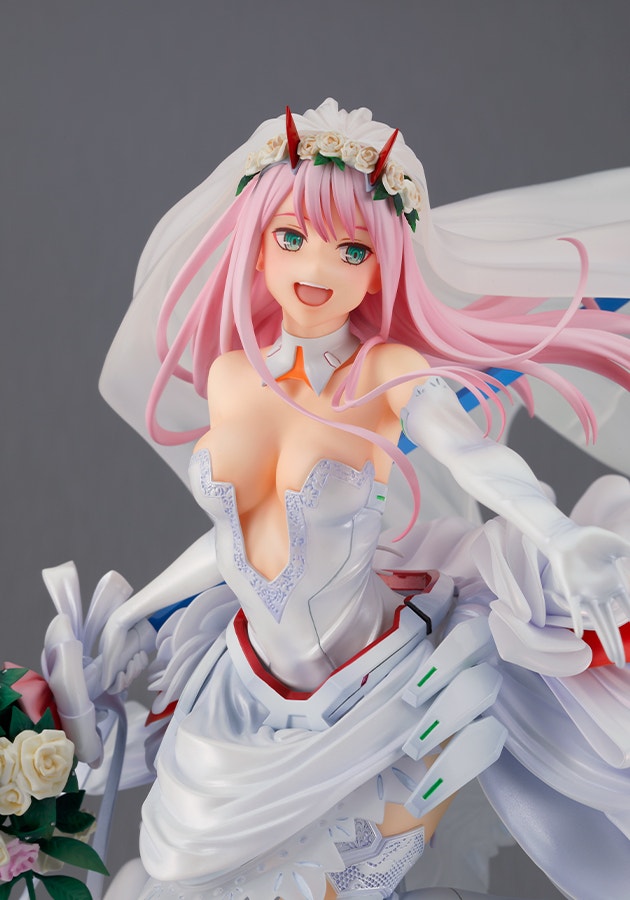 We met by chance
and we're attracted to each other by nature.―――
From the anime series "DARLING in the FRANXX" comes a scale figure of Zero Two in a wedding dress based on a special illustration by director Atsushi Nishigori that was drawn for the purpose of making this figure. Zero Two has been brought into figure form wearing a gorgeous wedding dress similar in appearance to the Strelitzia Apus.
Whether you interpret her appearance as an alternate ending to the anime, or perhaps as something that happens beyond the anime's ending is up to you. The only thing we can say for sure is that we believe this is must-have item for any fan of DARLING in the FRANXX. Be sure to add her to your collection.

Illustration by Director Atsushi Nishigori
The figure is based on this special illustration by director Atsushi Nishigori. The illustration was made for the purpose of creating this figure.
When I expressed my desire to see Zero Two in a wedding dress, Director Nishigori came up with something that totally surpassed my expectations. When I saw the illustration I was stunned!

Planning Team: Kyojin

Dress Paintwork
Zero Two's wedding dress features pearl paintwork with a touch of pink color that subtly changes the dress' appearance depending on how light strikes the figure.
We wanted to provide a lightweight look through the paintwork that wouldn't be outdone by the voluminous sculpt of the figure. In particular, we paid close attention to painting the shadows, colors and textures of each area to match what those materials would look like in real life. The result is a light and refreshing look for Zero Two perfect for the spring season.

Production Director: Akihito Takano

The figure is painted to bring out the details of the sculptwork for a soft and beautiful look, and the embroidered parts of the dress were painted to look like real silk thread. I also wanted to use Zero Two's character color, red, somewhere in the dress, so I used pearl paintwork to make it so the dress shines faint red when light is cast on the ribbons on both sides of the figure.

Paintwork Artist: Nobuhiro Yoshino

Dress Decorations
The silhouette and various decorations of Zero Two's original wedding dress have been carefully created so as to resemble the True Apus. The textures featured throughout the dress have been created with careful sculptwork and paintwork to look how they would if it were a real dress.
I'm honored to have been able to sculpt such a wonderful design that incorporates the look of a mecha into a wedding dress. There are plenty of details that you won't catch without taking a closer look, so please enjoy viewing the figure from every angle!

Sculptor: Kenzo

It was particularly challenging making the dress look both voluminous and lightweight.
We used translucent parts when creating the skirt and also sculpted the inside of the skirt to appear as though wind was blowing through it. This is one of my personal favorite parts of the figure.

Production Director: Akihito Takano

Zero Two's Smile
One could say that the face is what brings life to a figure. For Zero Two, we utilized our years of figure making experience while keeping her face close in mind in order to create a three-dimensional recreation without any feeling off in any way.
Above all, we wanted to bring fans the very best version of Zero Two's smile that any fan could hope to see.
It took quite a bit of trial and error to sculpt Zero Two's smiling face while maintaining her likeness since you don't often see her smiling face throughout the series.

Sculptor: Kenzo

I was always thinking to myself, "Is this how Zero Two would smile?" while working on the paintwork to create her wonderful smile.
I hope you can add her to your collection and enjoy her smile up close!

Paintwork Artist: Nobuhiro Yoshino
Product Name
Zero Two: For My Darling
Series Name
DARLING in the FRANXX
Specifications
Painted 1/7th scale ABS&PVC complete product.
・Approximately 270mm in height.
Price
¥25,000
Release Date
July 2022
Sculptor
Sayoko Kamitsure
Production Cooperation
Kenzo
Paintwork
Nobuhiro Yoshino
Preorder Period

From the 22nd of April, 2021(Thu) at 12:00JST
to the 8th of July, 2021(Thu) at 12:00JST
Preorder Now

The "Zero Two: For My Darling xx Memorial Board" version includes a special art board (424mm x 301mm) featuring the original illustration by director Atsushi Nishigori.
Price

¥30,000
Preorder Here

GOODSMILE ONLINE SHOP GOODSMILE ONLINE SHOP US

This product is only available for purchase at the GOODSMILE ONLINE SHOP and GOODSMILE ONLINE SHOP US.